Whether you're a beginner or expert, The Mermaid's Purl has classes at least three nights a week and will be offering morning classes as well.
Or, join us
for 
our Wednesday morning and evening Knit-ins where you can bring your work in progress and chat, get new ideas or help if you're stumped.
Here's our latest newsletter  with specials, events and course schedules:
Spring has finally arrived, but that doesn't mean your needles have to go into hiding.   How about working on a summer tank or a lacey shawl? We have plenty of wool-free projects to keep your hands busy.
UPCOMING CLASSES
KNIT-IN
Every Wednesday Evening        6:30-8:30 pm
Every Wednesday Morning       9:00-11:00 am       
Class Fee:  $10
In the middle of a project & having a problem?  Come and join us to get help & meet new friends...
Call to reserve your spot as this class always fills up quickly!
NEEDLE FELTED MOBILE
 *New Class*
Tuesday, May 21  9-11 am
Class: $25 Kit: $20
Not only perfect for a nursery but looks wonderful adorning any room in your home. Using mother Earth's creations for you inspiration, you will be needle felting nature's gifts: leaves, acorns, mushrooms...use your imagination to bring the outside in. Have fun!
FLOWER FLIP FLOPS!
 Thursday, June 13 9-11 am
Class:$25    Kit:$15
A great look for Spring!  Spice up your flip flops by decorating them with wet felted embellishments.  A great class for all experience levels.
FIBER ENTHUSIAST RING
Tuesday, June 18 6:30-8:30
Class: $25 Kit: $10
Another fun way to integrate fiber into your wardrobe. You will be combining colors and textures to create a beautiul statement ring.
SUMMER FLIES SHAWL
Thursdays, June 13 & 20 5:50-7:30 pm
Class: $50 Kit: Depends on yarn choice
This versatile shawl is made using a sampling of different stitches. You can wear it around your neck or drape it over your shoulders. It begins with an interesting technique, then combines yarnovers in different combinations- You will be a YO-pro by the end!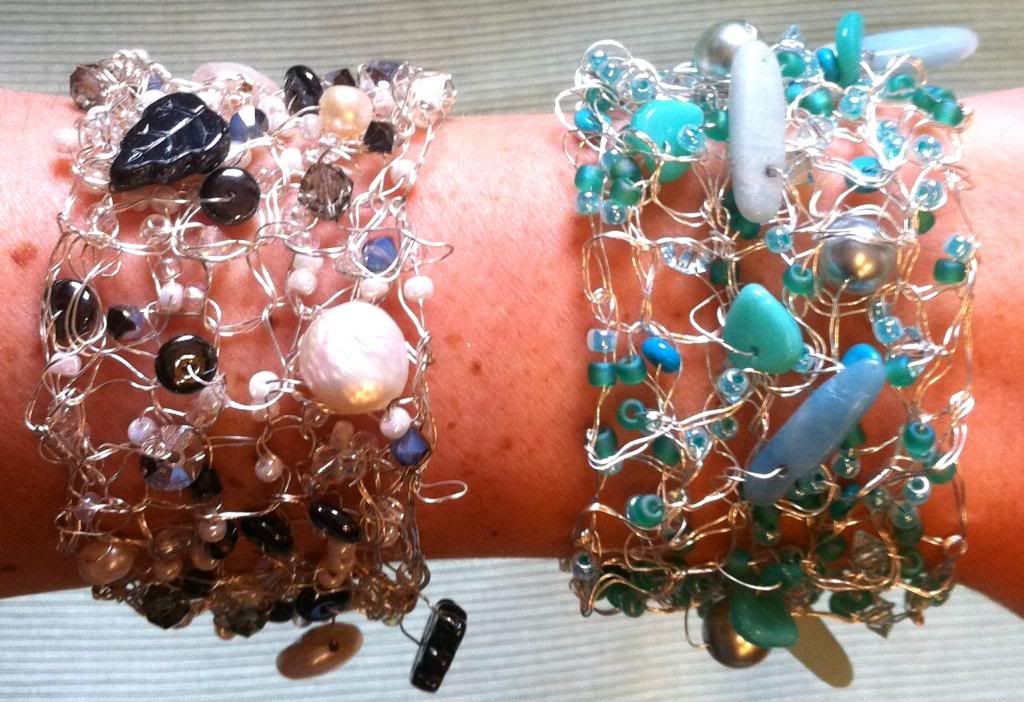 FISHNET CUFF
Sunday, June 23 10 am- Noon
OR 
Tuesday, June 25 5:30-7:30
Class: $25 Kit: $35
Learn how to create these stunning bracelets by knitting with wire. It is so easy to do using a basic tecnique that has wonderful results. There are tons of gorgeous color combinations to choose from.
SASSY SOCKS
Thurdays, June 27, July 18 & 25
Class: $75  Kit: 3 Skeins of Gems & Entrelac Book
Take your knowledge of entrelac to the next level by using it in everyone's favorite warm weather project-socks.  We will be combining different colors, adding ribbing into our squares and working in the round. 
All of the class samples are on display in the shop...
15% discount will be applied to all class materials and purchases on the night of classes.
Please contact us at (401) 268-3899 to register for classes and for any additional information.
Payment in advance reserves your space in class. Class fees are non-refundable. You may cancel your registration up to 4 days prior to class in order to receive a store credit-no refunds will be issued. When you sign up for a class we make a commitment to our teacher for that specific class-therefore we are unable to transfer you from one class to another. We do not offer make up classes or reimburse for classes that you miss. Classes with less than 3 students or bad weather conditions will be cancelled and payment will be fully refunded or a new class will be rescheduled.



Until next month,


Your Roving Reporter